All prices include shipping.
Eggy's Dead– A hard copy only submission based literary zine, with each issue being illustrated by an artist. To illustrate, help distribute, or submit writing, contact riotradiopodcast@gmail.com
Writing submissions can be Poetry, Short Stories, Short Plays, Essays, Excerpts, etc. fiction or non, and should not be more then around 3500 words.
Issues Printed:
#1: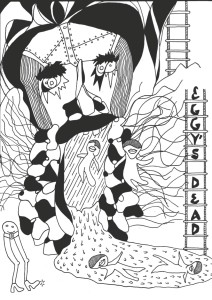 Contents
1- Salvation Is A Swift Kick To Someone Else's Nuts by Kevin Esposito
7- Solid State #1 by R. Weaver
10- Untitled No.1, 2015 by W.J. Hyatt
11- Two Poems by John James Wall
11- an excerpt from the zine Fake Interviews with Famous Men by Marissa Magic
14- Bad Mask by Matt Sweder
18- postcard by Mike McCreay
19- Lost by Anonymous
19- Manager Special by Mike Swigert
20- an excerpt from the book Commonwealth by W.A. Barton
23- Untitled No.2, 2015 by W.J. Hyatt
24- A Random Thought by Rashida Findlater
24- Hallucinating by Anonymous
25- Anouk of the Netherlands; or the Morning Star by John Ptacek
33- a note from the editors
35- Jerry's Show by Hadi Hajizadeh
#2: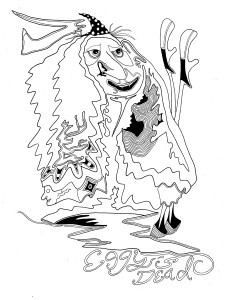 Contents
1- A Rural Mistake by R. Weaver
2- The Danger by Patrick Lamothe
5- This Machine Thanks You For Your Attention by Kevin Esposito
17- Untitled Poem #1 by John Ptacek
19- Untitled No. 4, 2016 by W. J. Hyatt
20- An Apology Script by R. Weaver
22- Bang by Patrick Lamothe
23- United Stakes Pt.1 by Don Fiction
28- Untitled No. 3, 2016 by W. J. Hyatt
29- GFU by R. Weaver
30- This Alone Will Always Be Surrounded by Patrick Lamothe
33- Untitled Poem #2 by John Ptacek
34- Untitled No. 5, 2016 by W. J. Hyatt